Invisalign at RTCSmile
Laser Therapy Treatment for Gum Disease for Reston Patients
Laser Therapy Treatment for Gum Disease for Reston Patients
Are you an adult or teen who needs straighter teeth?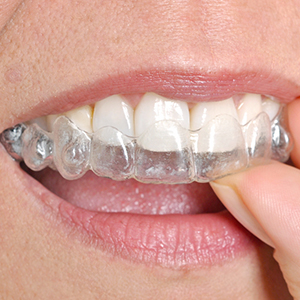 Have you ever been in a room full of people having a great time, but are hesitant to crack a smile or tilt your head back in laughter due to your crooked or misaligned teeth? At our Reston dental practice, we hear stories just like this every day. People want to fix their teeth, but more importantly they want the freedom and self-confidence to laugh loud and smile big.
If this sounds like you then keep reading because clear Invisalign braces from Smiles at Reston Corner may be exactly what you are looking for. You need braces, but don't want the metal-mouth look.
Naturally, you'll want braces that aren't uncomfortable and are virtually unnoticeable. You'll want braces that won't make you feel self-conscious about your smile. Likewise, if you are younger and you don't want to undergo the hassle of metal braces, you want an alternative.
While scaling and root planing may be more traditional treatment measures for treating periodontal disease, recently lasers have been shown to be just as effective, according to the American Academy of Periodontology.
Here is how laser gum therapy can help fight periodontal disease:
Helps teeth that are loose shifting (keeps bacteria from settling in)
Helps treat swollen or bleeding gums
Helps in the treatment of chronic, recurring infections
Helps minimize bone loss around dental implants or implant supported dentures
Provides a great alternative to patients looking for a minimally-invasive treatment procedure
Signs of periodontal disease that need laser therapy
Here are a few signs that may present themselves if you are suffering from periodontal disease:
Angry, red gums
Swollen or bleeding gums
Teeth that hurt due to surrounding gum tissue
Heightened sensitivity to hot or cold foods
Intense pain or uncomfortable feeling while chewing
Receding gums (teeth appear to be "longer")
It's important to understand that periodontal disease is caused by bacteria in the mouth, meaning that dental hygiene and routine cleanings are essential to keeping gum disease at bay. Periodontal disease is chronic, meaning that it can happen again and again, and is something that you must watch out for.
If you think you may be suffering from periodontal disease, or want to learn more about laser gum therapy and your treatment options in Reston, please call our office today to schedule your appointment. We look forward to seeing you, and to helping you get gum disease treatment with laser therapy.