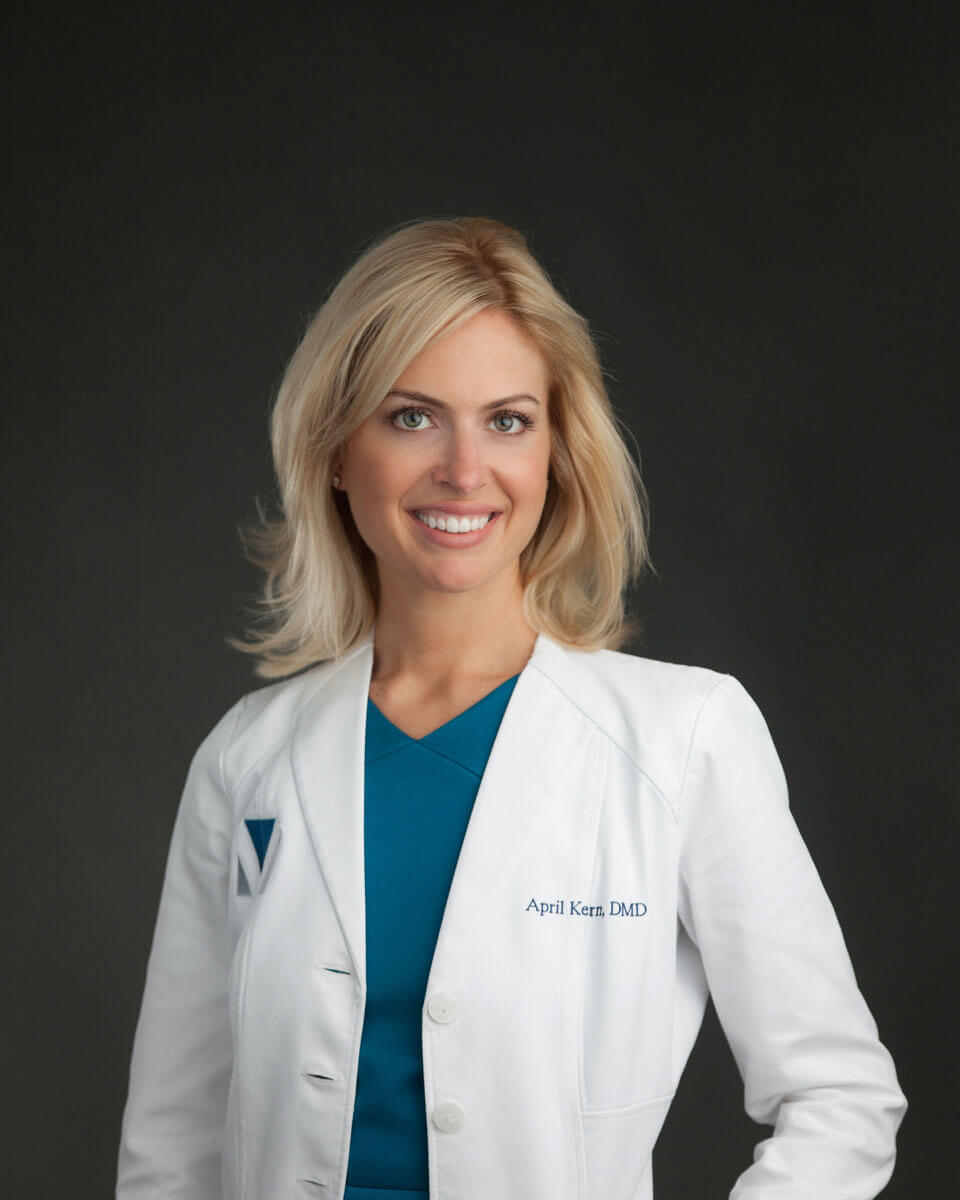 Dr. April Kern's philosophy is that all dentistry is Cosmetic Dentistry. Her goal is to enhance the value of each patient's life by providing excellence in dental care.
Dr. April Kern is committed to providing comfortable, long-lasting dentistry. With thorough care and modern techniques, she ensures that patients receive the highest quality of dental care.
By offering solutions to restore or replace teeth in a compassionate environment, Dr. Kern treats patients honestly with modern and long-lasting dentistry. Dr. Kern is passionate about involving patients in treatment planning, educating patients about treatment options, and encourages them to take charge of their oral health. Dr. Kern prides herself in being very thorough in her work, from initial diagnosis to rendering treatment, as she believes every patient deserves to be treated with the utmost respect and compassion, as you would treat your family. Dr. Kern's extensive training has made her a welcome addition to Smiles at Reston Town Center, where she is well-equipped to handle all your dental treatment needs.
Dr. Kern graduated with honors from the Wharton School of Business at the University of Pennsylvania, and prior to dentistry she worked as a strategic management consultant in London, England. Dr. Kern received her Doctor of Dental Medicine (DMD) from Nova Southeastern University in Fort Lauderdale, Florida. A member of the Honors Prosthodontic Program, she was the solo recipient of the Student Award of Merit from The American Academy of Esthetic Dentistry. Dr. Kern elected to pursue further training by completing an intensive General Practice Residency at the level 1 trauma center at Albert Einstein Medical Center in Philadelphia, Pennsylvania. There she gained advanced, multidisciplinary clinical experience with an emphasis on dental implantology.
Dr. Kern stays current on the newest techniques and principles in dentistry with hundreds of hours of clinical and didactic continuing education (CE) courses. Dr. Kern has been a leader of the Elite Dental Group Spear Study Club, and attends hands-on lectures and seminars at the Spear Institute in Scottsdale, Arizona. Dr. Kern is an Invisalign Gold provider, and she is a proud member of the NOVA Institute/Seattle Study Club, the American Dental Association, the Northern Virginia Dental Society, the Academy of General Dentistry, the American Academy of Esthetic Dentistry, the Academy of Laser Dentistry, the American Academy of Women Dentists, and a charter member of the Nova Dentist Academy Study Club.
In her free time Dr. Kern enjoys spending time with her family.
Schedule your next appointment:
Learn how Dr. Kern can help you get the smile you've always wanted! Contact our office today to schedule your next appointment, or learn more about how we can provide excellent dental care.