Full and Partial Dentures at Virginia
Dentures or Partial Dentures might be the best solution for you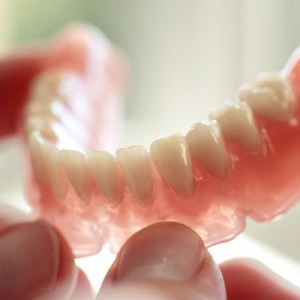 Are you missing one or more teeth?
Do you have low self esteem because everyone can see the big, empty space where your tooth was once located?
If so, dentures or partial dentures might be the best solution for you. They are a practical solution for those who are missing one or more teeth, and our dentists at Smiles at Reston Corner can restore your smile to make it look beautiful once again!
Immediate Dentures: A Complete, Convenient Smile
This type of denture is typically placed on the same day that your teeth are removed. A lot of patients love this option because they leave our office with a complete smile on the same day!
The process of removing your tooth/teeth is easy and relatively painless, especially due to the fact that we offer sedation dentistry.
Another benefit of immediate dentures is the fact that we can customize your smile to the color and shape you desire. This helps produce the amazing smile you deserve.
When choosing immediate dentures, you will come in to our office for a second appointment. During this appointment you will receive your full-set dentures. After this second appointment, you must come to our office for re-adjustments approximately 3-6 months later.
Partial Dentures: A Removable Solution
"Partials" (as a lot of people call them) are another option for those who are missing teeth. They are a great solution for patients who still have some of their natural teeth.
Nowadays partial dentures have a beautiful appearance— you won't walk around looking like you have fake teeth. Partials are made from either all-acrylic or acrylic, which adds to the aesthetic factor. Additionally, partials are strong and durable since they are made from a metal base.
Patients like partial dentures because they can be removed at night so you can rest comfortably.
Why Choose Dentures or Partial Dentures?
People who choose dentures or partials are better able to eat and speak once again. They no longer have to worry about feeling self conscious of their smile, or deal with problems when they eat and communicate.
Increased self esteem and self confidence are two more reasons why our patients choose dentures or partials. Their smile is now more attractive than ever!
It's Your Turn to Restore Your Smile
If you are interested in dentures or partials, we invite you to schedule your appointment today by calling us at 703-437-0007.