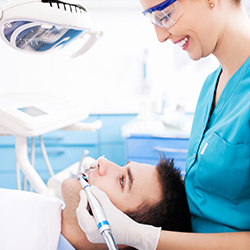 Healthy teeth and gums are important when creating a beautiful smile. At Smiles at Reston Corner, our dentists and hygienists offer dental cleanings and oral exams to maintain a healthy smile for new and existing patients.
Professional Tips for Proper Oral Care
In fact, our dentists and the American Dental Association (ADA) recommend teeth cleaning appointments for you and your family once every six months (2 times per year).
Additional recommendations for effective oral care include:
Brushing your teeth 2-3 times per day Flossing 1-2 times per day Limiting your intake of sugary foods/beverages
It is also very important for parents and caregivers to teach their kids about proper oral care techniques. Our dentists and hygienists can help you do so, if needed.
Routine Six-month Dental Appointments
At Smiles at Reston Corner, we provide customized oral wellness programs to meet your individual needs and to keep your teeth and gums healthy.
Our preventive dentistry services include:
comprehensive oral examinations
prophylaxis (teeth cleaning), including fluoride treatments
diagnostic x-rays
oral hygiene instruction
oral cancer screening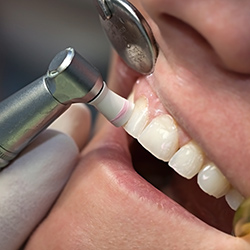 At your regular dental checkup appointments, our dentists can keep an eye on dental concerns before they turn into bigger, more expensive problems.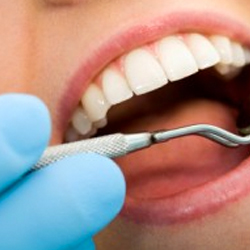 Without routine teeth cleaning appointments, you are placing yourself and your family's oral health at risk. If problems are not caught early on, you may become at risk for gum disease or periodontal disease.
Regular dental cleanings and oral exams are perhaps the most important preventive actions you can take to protect your oral health. It is much easier and better (and less costly) to prevent oral health problems than it is to treat them.
Why Choose Smiles at Reston Corner?
We offer patient financing to provide more options to pay for your dental work.
Our dentists and hygienists are gentle and caring so you'll feel comfortable.
We are accepting new patients!
Schedule Your Teeth Cleaning and Oral Cancer Screening Today!
Is it time for your routine teeth cleaning appointment? Call us today (703-437-0007) at our Reston, VA office to schedule your appointment (you can also contact us here). We are devoted to providing professional dental care for you and your family. We'll give you a reason to smile!