Porcelain Bridges: Eliminating the Gaps & Improving Your Smile
Do you have several teeth missing, causing a significant gap between your teeth? We know this can be embarrassing and unsightly, especially when you talk, laugh, or eat.
Well, don't worry because our cosmetic and general dentists have the solution for you—dental bridges.
What exactly is a dental bridge?
Rest assured, our highly talented and skilled cosmetic dentists in Reston, VA have several years of experience within the dentistry field, and this includes delivering impressive, long-lasting restorative dentistry services, such as bridges and crowns.
A bridge is a great dental solution for replacing missing teeth, and it can be constructed from metal, all-porcelain, or a combination of metal and porcelain.
You can either choose from a fixed bridge or a removable bridge. Once our trained dentists evaluate your teeth and gums, we will decide which type of bridge is best suited for your dental needs.
Depending on the material that the bridge is made of, such as an all-porcelain bridge, your new smile will once again look aesthetically-pleasing and natural-looking, too!
You can expect your bridge to last anywhere between 10-20 years, depending on your at-home oral hygiene regimen.
Dental bridges are easy to care for. We recommend taking care of the bridge exactly as you would your natural teeth–flossing and brushing 2-3 times per day.
If you have several missing teeth that is causing a big gap, you are most likely a candidate for a bridge. When you come in for your consultation appointment, however, one of our dentists will thoroughly evaluate your teeth and gums to ensure that a bridge is definitely the best dental service to fulfill your dental needs. In some instances, we may recommend dental implants or removable partial dentures instead of a bridge.
There are, however, several solutions to fix the missing teeth problem that a lot of patients experience.
Bridges are great for those who are missing a few teeth.
Partial dentures are also an option for those who are missing a few teeth.
Dental crowns are good for those who are missing a single tooth.
A full set of dentures are a good option for those who are missing multiple teeth.
The process of getting a dental bridge
A few appointments are typically needed to get a dental bridge. Here's what needs to happen:
Our dentists need to prepare the abutment teeth. In order to do this, some of the tooth structure from the teeth on one or both sides of the gap is removed. This allows enough room for the crowns to be placed. All of this typically happens during the first appointment (the appointment after we decide that a bridge is right for you).
Next, we need to take impressions of your teeth. The impressions will be sent to the lab in order to create your customized bridge. In the meantime, you must wear a temporary bridge.
At a subsequent appointment, the temporary bridge will be removed and the new, customized bridge will be placed. There is a chance of additional follow-up appointments in order to make any adjustments for a comfortable fit.
Why choose us to exceed your dental expectations?
We are committed to delivering impeccable, breathtaking results, while utilizing top-of-the-line dental materials. Furthermore, when you choose our dentists, we know that your dental work will last a long time, depending on your at-home oral hygiene care, of course!
So that means you can look forward to your bridge lasting for several years down the road.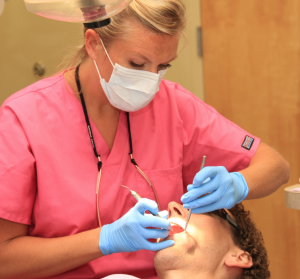 Call us today for your consultation!
If you are interested in regaining full functionality of your teeth once again, call our office at 703-437-0007 to schedule your consultation to see if a bridge is the right dental solution for you.
Our dentists want you and your family to have a long-lasting, healthy, beautiful smile, which is why we offer a plethora of cosmetic, general, and restorative dental solutions to exceed your expectations!